English
Set course for Horsens Fjord and embark on an unforgettable sailing vacation.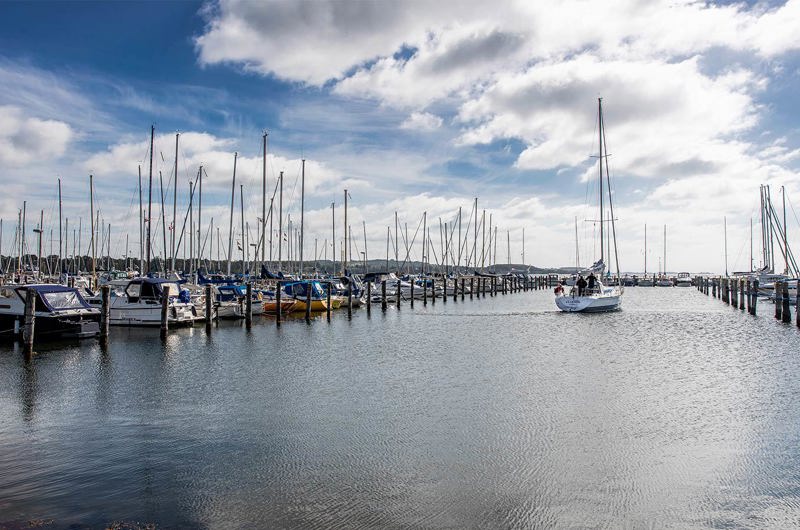 The sail from the entry in the east to the head of the fjord is around 7 nautical miles long. Take your time to enjoy the fjord's islets, wildlife, hilly scenery and bays with idyllic anchoring places.
Horsens Fjord carries a rich culture-historical heritage from the Viking Age, visible in the many burial mounds along the shores.
Horsens Marina is located at the head of the fjord close to Horsens town centre, where you can stock up on provisions in the many grocery stores or explore Denmark's widest pedestrian street.
The marina has maintained its original maritime atmosphere with snug red wooden sheds in the old fishing quarter.
You can choose to sail further on to the old commercial harbour, where you berth right in the town centre. In 2019, Horsens Marina established 20 visitors' berths with access to showers and bathrooms.
| | |
| --- | --- |
| 0,00 – 11,99 m: |  DKK 130,00 per day |
| From 12 m and above: |  DKK 235,00 per day |
| Autocamper: |  DKK 185,00 per day |
| Washing machine: |  DKK 35,00 per wash |
| Dryer: |  DKK 15,00 |
| Crane (up to 5 ton): |  DKK 400,00 |
| Slipway: |  DKK 25,00 |
Office- and phonehours:
Tuesday-Friday, 1200-1300 
Closed Sunday and monday
Harbourmaster:
Peter Hermansen
Phone: +45 2080 1338
Mail: pjh@horsens.dk
The marina is well-equipped with modern amenities and everything a sailing family could wish for.
Here you will find a playground, crabbing pier, a fun rope ferry and bicycle lending.
The marina has newly-renovated bathrooms, a sailor's kitchen, laundromat and pump-out facilities. Wi-Fi is available in the service building.
A service jetty with an 8-ton crane and slipway has been established.
Access for crane/slipway can be purchased at the vending machine by the harbour master's office. There is a self-service crane for up to 5 tons, fee: DKK 400 per lift.
The area offers a variety of cosy nooks with barbecues where you can enjoy your goodies.
Get an ice cream or enjoy a delicious meal at the restaurant Pynten with a view over the fjord.
Embark on a bike adventure!
You can borrow bicycles free of charge at the marina if you come by during opening hours. Contact the harbour master.
Everywhere you go along the fjord, you will find plenty to experience, woodland areas, scenic views, sandy beaches and nature trails.
There are bicycle lanes all along Horsens Fjord, a total of 52 kilometres (32.5 miles) that includes crossing the fjord on a bicycle ferry at the island Alrø.
We recommend dividing the trip into shorter routes, using the marina as your point of departure. If you want a short route, we recommend the 4-kilometer (2.85 miles) trip north of Horsens Fjord. Here you will pass the centre of Horsens, the neighbourhood Stensballe and end up at the nice sandy beach at Husodde.
If the weather shows itself from its less inviting side, Horsens and the surrounding area offers plenty of attractions, shopping opportunities and a huge aquapark with a water slide for children and childlike souls.
Around 2 km (1.25 miles) from the marina you will find wild water activities for young and old.
Aqua Forum is fun in the water for kids who love action and excitement. Try the water slide, diving tower, waterfall or bubble pool. Aqua Forum is currently open – though with a limited number of guests.
Around 5 kilometres (3.25 miles) from the marina, you can break out your golf clubs at Stensballegaard Golf Club that has one of Denmark's most idyllic and scenic golf courses.